Map every
contact exactly
Every missed contact represents a missed commercial opportunity. With Solucall, an online management platform which we developed inhouse, we ensure that you can (re)view the path of every phone call, email, live chat or social media message. We automatically open the platform to you as soon as we start working together.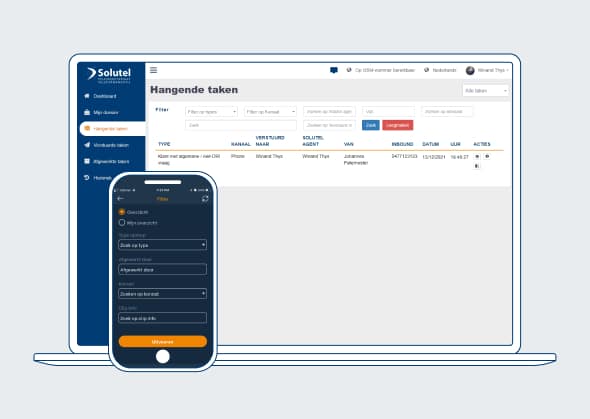 Maximum insight into and management of your contact recordings
Solucall logs every contact from and to your customers, suppliers, stakeholders, etc. and keeps these details - fully GDPR-proof - up to date. It is also possible to add notes or follow-up notes to certain calls or messages. You can also easily classify your contacts into different categories using tags, giving you an even better overview of your communications. No more misplaced emails or phone calls, everything is done centrally in one place.
Request a demo
Solucall + your business software = cost-effective integration
Solucall is not only the ideal way to monitor and manage your communication to and from your company. Our Solutel employees also use this online platform every day to support them during calls or other contacts.
There is no need for either party to install or implement additional software in order to make optimal use of Solucall. This is because the platform has all the necessary functionalities to be able to simply cooperate with the software and (ERP) packages used on your shop floor. In other words, no expensive implementation costs and technical hassle for you as a customer.
Would you like to work with Solutel
telesecretary for companies?

Step 01
Introduction and intake interview
What are your concerns regarding communication with your patients? Tell us about the day-to-day business of your practice and fire any questions you have at us.
Step 02
Detailed roadmap
Are we going to join forces? Great! We're now going to prepare a tailor-made script, which will serve as a guide for our employees. Based on this, they can work with any scenario within your practice.

Step 03
Direct line to our team
Once all systems are good to go, we can go live and start working together. We stick closely to agreements made. If you have any questions, you can contact us quickly. Do you need to transfer a call to us? Just press a button and we jump in for you.

Step 04
Enter: Solucall
As a customer you have access to our Solucall platform. You can manage the follow-up of your communication as well as request a detailed overview of all incoming messages and calls. And that completely GDPR-proof. If necessary, we also work with your proprietary (cloud) software and/or CRM package.